Zahid Shahab Ahmed, Deakin University
The arrest this week of former Pakistan prime minister and cricket legend Imran Khan has triggered nationwide protests targeting military and other institutions, some of which have turned violent.
Pakistan's political crisis has worsened significantly since Khan lost a no-confidence motion in parliament and was ousted from power last April. Since then, Khan's populist rhetoric has stoked divisions in society, leading to extreme polarisation and the violent reactions we've seen this week.
Khan takes on the military
Khan began sowing these divisions even before he left office. Before his ouster, he had blamed Pakistan's one-time close ally, the United States, for conspiring against his government and trying to push him from power.
His party, the Pakistan Tehrik-e-Insaf, has a long history of labelling its political opponents as Western slaves, so this narrative reverberated among his supporters.
Khan then shifted his anger towards the army and its then-chief, General Qamar Bajwa, claiming they were trying to bring down his government.
Khan and the military were once close. Soon after he rose to power in 2018, many of the leaders in his party claimed it was perhaps the first time a civilian government and the military establishment were on the same page in Pakistan.
But the relationship started to fray over the appointment of a new head of Inter-Services Intelligence, Pakistan's powerful intelligence agency, in 2021. Khan wanted the then-chief of the agency, General Faiz Hameed, to continue in the role, while the military wanted someone else.
Then, last November, Khan survived an assassination attempt at a political rally in Punjab province. A day later, he pointed the finger at three senior government figures as being behind the attack – the new prime minister, the interior minister and a senior intelligence official.
The military establishment issued a statement accusing Khan of fabricating the allegations. Khan responded immediately by saying that he stood by his allegations.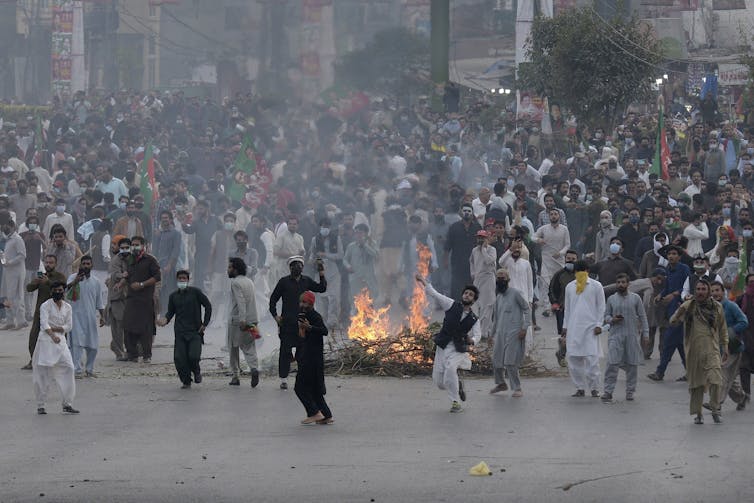 Graft allegations from the new government
While political violence has a long history in Pakistan, it has certainly increased in the wake of Khan's populist attacks on the military and other institutions and the political polarisation that has ensued. The new government's pursuit of Khan has also sparked anger among his supporters.
After removing Khan's party from power last year, the Pakistan Democratic Alliance – an alliance of several other parties, including the Pakistan Muslim League (Nawaz) and Pakistan People's Party – formed a government and immediately began targeting Khan and his party officials in whatever ways possible.
In the so-called "Toshakhana case", the government accused Khan and his wife of corruption for illegally keeping gifts given to them by other countries. The case refers to the Toshakhana department in the government responsible for storing expensive gifts given to public officials. Just last week, the Islamabad High Court found the case to be illegal and dismissed it.
Khan has faced a flood of other allegations, however, ranging from corruption to sedition. By some counts, he faces more than 100 cases around the country. There are elements of revenge politics here because Khan's government had also targeted rival political leaders through corruption charges when it was in power.
The new government has made several attempts to arrest him in recent months. A small team from the federal police was sent to his house in Lahore in March, but faced heavy resistance from Khan supporters. A popular slogan emerged among Khan's supporters: "Khan is our red line". It was a warning to the state not to arrest him.
Although the government has tightly controlled the mainstream media, Khan's party has reached its supporters through social media to stoke dissent. And despite crackdowns on Pakistan Tehrik-e-Insaf leaders, party workers and Khan sympathisers for speaking out against the state on social media, the government hasn't been able to control the simmering anger across the country.
Khan's arrest sparks violence
This week, Khan was finally arrested on corruption charges related to another case involving the Al-Qadir University Trust. Khan is accused of using state funds to compensate a real estate giant, Malik Riaz, for land that would be used to build a new university called Al-Qadir.
Khan's lawyers challenged the legality of the arrest, but the High Court upheld it. Doubts have remained over whether the authorities followed the proper procedures, however, so it was not surprising that Khan's supporters reacted the way they have. Within hours of the arrest, party workers and supporters gathered in many major cities and began openly attacking key military buildings.
The headquarters of Pakistan's army was attacked by a mob in Rawalpindi, as was the house of a corps commander in Lahore. This is unprecedented – the army headquarters have only ever been targeted by terrorists before.
The military was singled out due to Khan's earlier allegations the army conspired to oust him from power and also the fact he was arrested by rangers and not the police.
So far, no one knows Khan's exact location or whether he is under civilian or military custody. It is very likely the protests will continue – and with that, increasing levels of violence – until Khan is released.
Zahid Shahab Ahmed, Senior Research Fellow, Deakin University
This article is republished from The Conversation under a Creative Commons license. Read the original article.