Fulton County charges Donald Trump with racketeering, other felonies – a Georgia election law expert explains 5 key things to know
Anthony Michael Kreis, Georgia State University
An Atlanta, Georgia, grand jury indicted former President Donald Trump on Aug. 14, 2023, charging him with racketeering and 12 other felonies related to his alleged attempts to overturn his 2020 election defeat in the state.
Eighteen of Trump's allies and associates, including former Trump attorney Rudolph Giuliani and former White House chief of staff Mark Meadows, were also indicted for racketeering and other felony charges for their alleged involvement in the scheme.
This marks Trump's fourth indictment in five months – and the second to come from his efforts to undo the election results that awarded the presidency to Joe Biden. Fani Willis, the district attorney of Fulton County, Georgia, started investigating Trump's involvement in this alleged scheme, as well as that of Trump's colleagues, in February 2021.
In January 2021, one month before the investigation started, Trump placed a phone call to Georgia Secretary of State Brad Raffensperger and pressed him to "find" enough votes to overturn Biden's win.
The Conversation U.S. spoke with Anthony Michael Kreis, a scholar of Georgia's election laws, to understand the significance of the charges laid out in the 98-page indictment. Here are five key points to understand about the precise nature of the charges and why racketeering is at the center of them.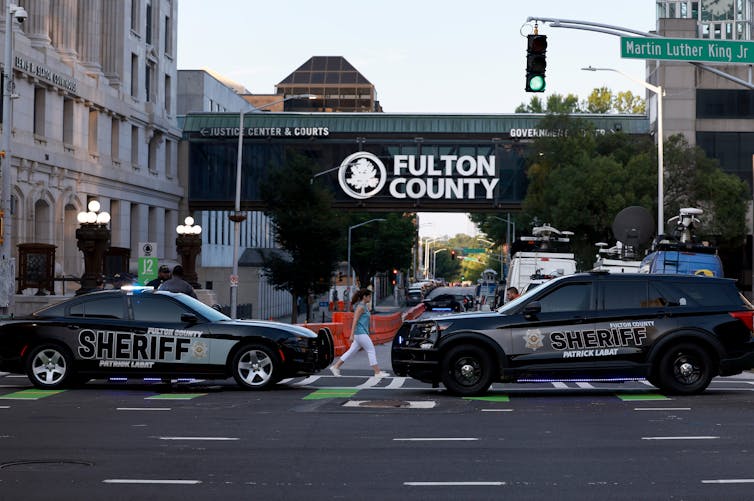 1. Racketeering is different from conspiracy charges
With a Racketeer Influenced and Corrupt Organizations, or RICO, charge, Willis presents a narrative that there were a large number of people involved in this case, but that they didn't necessarily sit down at some point and over cocktails and say, "We are going to engage in this criminal act," which would be a traditional conspiracy case. She is painting this picture of people winking and nodding and working toward this end goal of overthrowing the election, but without some kind of expressed agreement.
The Georgia RICO law allows her to rope in a lot of people who allegedly were involved with this kind of approach.
To be able to bring conspiracy charges, she would have to have an expressed agreement and a concrete act in furtherance of that conspiracy. And here there really wasn't quite a plan – it is essentially a loose organization of people who are all up to no good.
2. Georgia – and Willis – have used racketeering charges before
Traditionally in Georgia, RICO has been used to prosecute people engaged in very violent kinds of activity – for street gangs and the Mafia, in particular. It has also been used in other contexts.
The most notable is the Atlanta public school cheating prosecution in 2015, when a number of educators were charged with manipulating student test scores. They wanted to make the public schools look better for various reasons. But they didn't all know exactly what the other people were doing.
Willis was the assistant district attorney prosecuting that racketeering case. It's a tool that she likes to use. And it is a tool that can be really hard for defendants to defend against. Eleven of the 12 defendants were convicted of racketeering in 2015 and received various sentences, including up to 20 years in prison.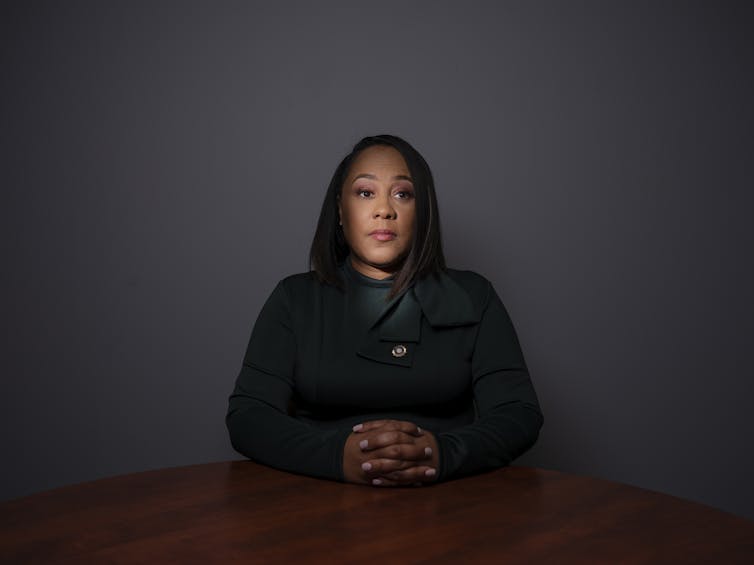 3. Georgia law poses particular risks to Trump
Georgia's RICO law is much more expansive than the federal version of the law. It allows for a lot more different kinds of conduct to be covered. That makes it very easy to sweep people into one criminal enterprise and it's a favorite tool for prosecutors.
And the punishments for violating the state's RICO are harsh. There is a minimum five-year sentence for offenders, and there can be a lengthy prison sentence for any co-defendants, as well.
But it also introduces a new dynamic, which Trump might not be used to. There is a big incentive for people who are listed as co-defendants to cooperate with the state and to provide evidence, in order to escape punishment and secure favorable deals.
This is probably the biggest risk to Trump, and the likelihood that he would be convicted in Fulton County rests with this. The other people involved in this are not all household names, and presumably have families and friends and don't want to go to prison. They may well find themselves in a position to want to give evidence against Trump.
4. It's ultimately about election law
It looks like Georgia election law is taking a slight backseat to some of these other possible charges – of false swearing, giving false statements – which is not quite an election conspiracy, or election interference, which are distinct charges under Georgia law.
The important lesson here is that Willis is essentially bringing an election conspiracy charge under RICO, so it is an election law violation by another name.
What she is vindicating is not only the rights of Georgians to vote and have their votes counted. Willis is also preserving the integrity of the election system – to not have poll workers harassed, to not have people making false statements about the elections in courts of law, and to not have people tamper with an election.
5. This could influence future key elections
Georgia has some serious contested elections ahead in 2024 and 2026. And people need to have faith in the system, the process, as well as in the institutions and the people. Fani Willis has a very important goal here – which is to expose the wrongs for what they were, to show people what happened here and to what degree it was criminal, if she can prove that. It's also about reassuring people that if others engage in this kind of conduct, they will be penalized.
Anthony Michael Kreis, Assistant professor of law, Georgia State University
This article is republished from The Conversation under a Creative Commons license. Read the original article.